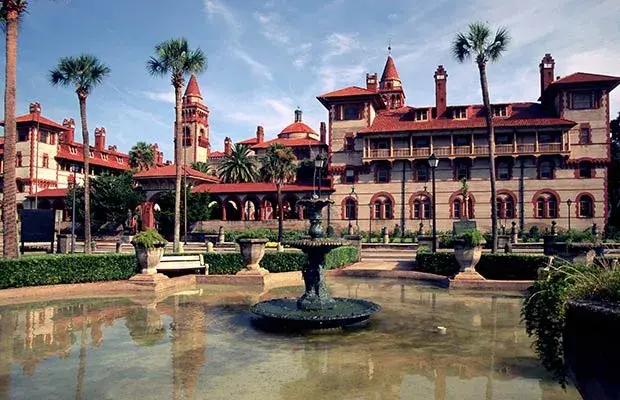 Program Schedule & Calendar
Designed for Your Needs
Program Schedule
The Public Administration Program can be completed in 5 semesters or 2 1/2 years. Here is how it works:
17 week semesters are split between two 8 week sessions with a one-week break between sessions
You can take two classes each session (four per semester)
Students take two classes each session (four per semester). Students can select a Monday-Wednesday or a Tuesday-Thursday class schedule which follows asynchronous schedules. Face-to-face classes meet one evening per week from 6 p.m. to 10 p.m.
Saturday classes are replaced by weekly online assignments, activities, and discussion boards.
Classes follow either hybrid or and fully online formats. Each semester will include a mix of face-to-face hybrids and fully online courses.

Hybrid Classroom Course: Online activity is mixed with classroom meetings, and as used at Flagler, modestly replaces a classroom venue by 20%. For example, if a course traditionally meets in a classroom once or twice per week, a blended version might use online sessions to replace one or two of the traditional weekly classroom sessions or focus face-to-face sessions on laboratory or project work.
Fully Online Course: All course activity is done online; there are no required face-to-face sessions within the course and no requirements for on-campus activity. Courses consist entirely of online elements that facilitate the three critical student interactions: with content, the instructor, and other students.

No summer classes.

Academic Calendar
Fall Semester 2021
| Month | Day | Event |
| --- | --- | --- |
| July | 16 | Last day to submit an application for the Fall semester |
| | 30 | All documents, including transcripts, must be received for Fall applications |
| August | 6 | Last day to submit Fall semester deposit and enrollment confirmation form |
| | 6 | PAD Adjunct Reception (TBD) |
| | 11 | New Student Orientation, 6:00pm, Pollard Hall |
| | 16 | PAD Fall Session A begins |
| | 23 | Last day to drop courses without a grade |
| September | 10 | Last day to drop a course in Term A and receive a grade of W |
| October | 7 | End of Fall Term A |
| | 18 | PAD Fall Term B begins |
| | 25 | Last day to drop a course without a grade |
| November | 12 | Last day to drop a course in Term B and receive a grade of W |
| | 19 | Last day to submit an application for Spring Semester |
| December | 9 | The end of Fall Term B |
| | 10 | All documents, including transcripts, must be received for Spring applications |
| | 11 | Fall Commencement. Lewis Auditorium. 9:00am |
| | 15 | Spring term 2021-2022 Orientation. 6:00pm in Pollard Hall. |
| | 17 | Last day to submit Spring semester deposit and enrollment confirmation form |
| | 20 | College closes until January 3, 2022 |
Spring Semester 2022
| Month | Day | Event |
| --- | --- | --- |
| January | 10 | PAD Spring Term A begins |
| | 17 | Last week to drop a course without a grade |
| February | 4 | Last day to drop a course in Trem A and receive a grade of W |
| March | 3 | The end of Spring Term A |
| | 14 | Spring Term B begins |
| | 21 | Last day to drop a course without a grade |
| April | 8 | Last day in Term B to drop a course and receive a grade of W |
| May | 5 | The end of Spring Term B |
| May | 7 | PAD Commencement. Lewis Auditorium. 9:00am |